This spring may have brought freak snowstorms and lots of rain, but now we turn our warm sunny thoughts to summer where kids can stay outside and play all day. From strawberry picking, splash pads and splaygrounds, to free outdoor movies and concerts, Mommy Poppins is your go-to for what-to-do in the Philly area this month.
Headed to the shore? We've got things to do with toddlers, best boardwalks, and best beaches. Looking for day trips to historical places or planning a big trip to celebrate summer vacation? We've got those, too.
Get started on your June planning with 13 of our Top Picks below, and from everyone here at Mommy Poppins Philadelphia...Welcome, Summer!!
1. Brandywine Strawberry Festival - Coatesville, PA
May 31-June 3
Families can enjoy rides, games, live entertainment and more at this affordable festival. Little ones can enjoy moonbounces, inflatables, and carnival games in Strawberryland while big kids can delight in rides and amusements geared to tweens and teens.
2. Big Ideas for Little Learners - Philadelphia
June 9
Bring the family for an engaging exploration of friendship, acceptance, respect, and kindness at National Liberty Museum. Guests can expect to see puppets, props, as well as imagination as author and illustrator Staci Schwartz leads an interactive reading of her book, The New Bear on the Block.
3. Flag Fest - Philadelphia
June 10-June 16
Flag Fest 2018 kicks off with Betsy Ross raising the flag over the House at Stars & Stripes Saturday. Throughout the week, there are family-friendly activities in which to participate.
4. St. Anthony's Italian Festival - Wilmington, DE
June 10-June 17
Fun and food await families at St. Anthony's Italian Festival. Guests can enjoy rides, entertainment, performers, and a host of activities. Visitors of all ages can try delicious Italian cuisine. The festival opens at 2pm on the weekends and at 5:30pm on the weekdays.
5. Kidchella - Philadelphia
June 15
This rain-or-shine kids music festival is back for another great summer of music. Each month over the summer, Kidchella provides visitors to Smith Memorial Playground with a line-up of two nationally acclaimed performances as well as youth performers. For the June event, The Pop Ups + Alex will perform. The Youth Arts Zone opens at 4 PM and includes food trucks, youth performances, and art stations. The main concert takes place at the playground. Bring blankets to enjoy the music!
6. Enchanted Summer Day - Winterthur, DE
June 16
Dust off those fairy wings and elf ears for a true celebration of summer in Winterthur's Enchanted Woods. Children can participate in crafts, storytellling, and more. These activities are included with paid admission
7. Day Out with Thomas - Ronks, PA
June 16-September 23
All Aboard! Thomas the Tank Engine is rolling into the station at Strasburg Rail Road. The "Day Out with Thomas" event includes a train ride with Thomas, the chance to meet Percy, and a variety of themed Thomas & Friends entertainment.
8. Summer Nights Concert Series - Philadelphia
Every Wednesday, June 20-September 5
Wednesday nights sound a little sweeter thanks to Penn Museum's Summer Nights Concert Series. Every week, a different band is featured. The concerts are held outdoors; however, if inclement weather occurs, concerts move indoors. For the kickoff event on 6/20, Animus will be the featured performer.
9. Free Movie Night at KOP - King of Prussia, PA
June 21 + June 28
Bring the family to King of Prussia Town Center to watch a free movie. Beauty and the Beast will be shown on 6/21 and Grease on 6/28. Films are shown at the pavillion in front of Davio's Northern Italian Steakhouse.
10. Lightning in a Jar - Fireflies - Green Lane, PA
June 22
Create some simple and sweet summer memories at Green Lane Park as kids, aged 4 and up, are invited to bring a non-breakable container to the tennis courts to explore the magic of twinkling fireflies.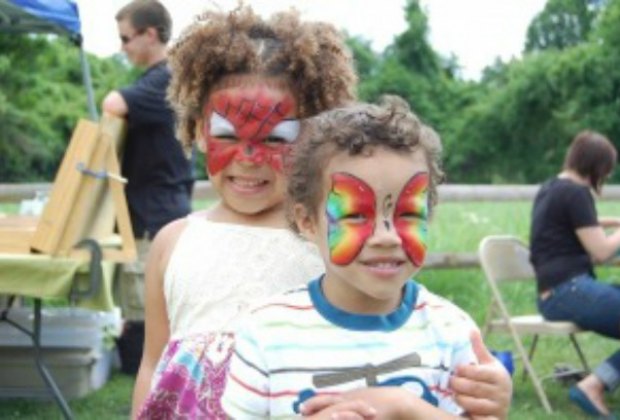 Face painting fun at the Delaware Museum of Natural History's Family Day. Photo courtesy of the museum
11. Family Fun Day - Wilmington, DE
June 23
Families are invited to the annual Family Fun Day at the Delaware Museum of Natural History. Held in the garden, visitors can enjoy outdoor activities, games and food. Guests can expect trail hikes, interactive presentations, nature craft activities, and even a campfire with a marshmallow roast! Food truck offer a variety of options.
12. Vintage Baseball at Its Best - Schwenksville, PA
June 23
The Athletic Base Ball Club of Philadelphia plays 1864 era base ball for all to enjoy. Enthusiastic ladies and gentlemen are invited to cheer the teams. Kids enjoy playing "Town Ball," a fun activity that was the precursor to baseball. The Pennypacker mansion is ready for guided tours which are free. A food vendor is available to serve lunch and refreshments. Handicapped parking & restroom facilities available.
Enjoy the oldest folklife festival at Kutztown. Photo courtesy of the Kutztown Folk Festival
13. Kutztown Folk Festival - Kutztown, PA
June 30-July 8
The oldest continuously operated folklife festival, The Kutztown Folk Festival is a week full of entertainment for families. Guests can expect to learn about the traditions of the Pennsylvania Dutch and their way of life. In addition, the festival features a wide variety of Pennsylvania Dutch food, folk artists and traditional American craftsmen, antiques and collectibles, entertainment, music,dancing and a wide range of children's activities.
5/27/18 - By Christine Mooney